Join us for an evening with Maestro Ustad Shafaat Khan performing Indian classical and folk music featuring tabla, sitar, and tone drums. This music is played in style of the North Indian sitar and surbahar school called Imdad Khani Gharan and based upon the beautiful poetry of Rumi and Hazrat Ameer Khusru going back to 13th century!
Ustad Shafaat Khan, world-renowned Indian Classical musician, son of Ustad Imrat Khan and nephew of Ustad Vilayat Khan, has performed worldwide at many prestigious concert halls, music festivals and universities all over India, America, Europe, China, Russia and Japan. Recently, he performed with Stevie Wonder at one of the biggest festivals in the USA, The Bonnaroo Festival. In the past, he's shared a television concert with Ray Charles in Germany. In addition, some of his CDs have been produced by the famous Dr. Deepak Chopra. In the rich history of Indian classical music, Mr. Khan has distinguished himself by being the first known artist to have attained simultaneous excellence in performing sitar, surbahar and tabla.
_______________________________________________
Ustad Shafaat Khan's Quotes from press:
"Virtuoso…Classical purity astonishing… intellectual and poetic…creator as well as performer" ~The Washington Post
"Star in the world of classical music… the thunderous ovation never ceased throughout his performance" ~Chandigarh Tribune India
"Absolutely superb" ~The Times London, England
"Indian music at it's top level…Shafaat's sitar/tablas magic might still be going on, it was barely stoppable" ~The Shoestring in Pacem, USA
"Driving power entered the performance when Shafaat's marvelous showed us the rhythmic complexity of the music and enthralled the audience" ~Cork Examiner, Ireland
---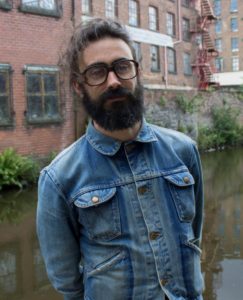 AHRKH  is the solo project of A P Macarte, current multi-instrumentalist member of Salford's critically acclaimed noise experimentalists GNOD (Rocket Recordings/NoNotFun) who through experimentation and collaboration have seen a devoted cult following across mainland Europe releasing over 70 releases, headlining and performing at festivals such as Roadburn, ReWire, Donaufestival and many more, and in 2017 on the bands 10th anniversary saw them collaborate and fuse with the grandaddies of experimentation faUSt.
In his solo guise, Using Modular synthesiser, field recordings and voice, and often paired with video, light manipulation and visual collaborations, AHRKH explores the relationship between sound, vision, and their ability to invoke altered states to touch the intangible within us and transcend our present reality, or in his own words "Traverse the infinite aural/astral panorama and ultra-dimensional transportation methods via sound".
Informed by meditation practice, vedic philosophies and studies in sound therapy and healing, paired with forward thinking electronics, noise, minimalism and ambient loops, with AHRKH Macarte creates what boomkat have described as "Slow burning vocal loops and drone manipulations, scoping internal panoramas of brooding raincloud tones, coruscating half-lit amplifier worship and midnight devotionals, recalling traces of everyone from Loren Conners to Barn Owl".
Primarily a live performance project performing in the UK, Europe and USA, alongside luminaries, and peers alike, for the past year AHRKH/Macarte has been expanding his sonic scope into the Therapeutic realms of sound, currently studying at the British Academy of Sound Therapy, one of the most highly regarding and prestigious institutions in the field, and has lent his sounds to installation works, Yoga classes, live film soundtrack and meditation sessions.
AHRKH has performed, collaborated, and shared stages with such luminaries as William Basinski, Robert AA Lowe, Vessel, Rose Kallal, Andrew Lilles (NWW/Current93), Roley Porter, Samuel Kerridge, faUSt and Anthony Childs/Surgeon…
AHRKH also hosts a monthly radio show "Golden Ratio Frequencies" on the esteemed NTS Radio and runs a micro-label of the same name releasing music of "Vibratory" nature.